Santucci's Original Square Pizza is a Philly institution, serving up food that gains acclaim from not only our customers, but also from the Press. We've been called everything from a 'Hidden Gem of Ocean City' by OCNJ Daily, to 'Some of Philly's Best Pizza' by Philly Mag. We have a proud tradition of serving up the finest Italian food available in the Philly area, and as we expand into New Jersey and beyond we are dedicated to maintaining that quality and doing everything possible to continue pleasing our audience. While our customers are our biggest fans and are the people we work the hardest to please, it's wonderful when our work and attention to superior food is recognized in the Press and by industry organization.
We've been voted the Best Pizza in Philly for multiple years. In a market full of competitors, Santucci's is recognized as one of the favorite and best pizzas in the area for more than 6 decades.
Santucci's was recently voted into the Pizza Today Hall of Fame. To be recognized for this award the business must still be run by the original family and have more than one location. With 60 years of experience, we are now in our 3rd generation of Santucci's ownership, with every member of the family contributing to the brand and to the quality of our food, so this award was of special importance to us. As we train our 4th generation of Santucci's owners we'll continue to uphold the quality, and even to improve it over time. Our founders, would be most proud of the acclaim.
Steph
2019-05-04T12:12:48+00:00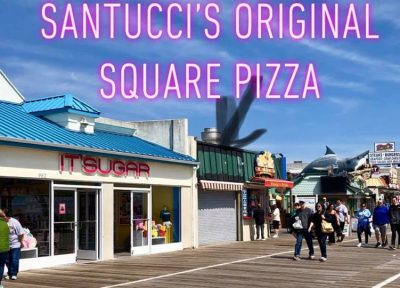 – The Patch– April 10, 2019 – Santucci's Original Square Pizza, a popular family business in Philadelphia, has expanded to the Boardwalk. OCEAN CITY, N.J. — In 1959, the late Joseph and Philomena Santucci opened the first Santucci's Original Square Pizza in South Philadelphia. Now with several Philadelphia locations, the family pizza business will [...]